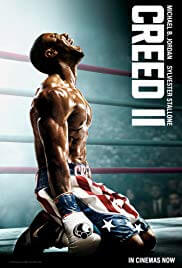 This Thanksgiving season Warner Bros. brings the follow up to 2015's Ryan Coogler directed Creed with Creed II, directed by Steven Caple Jr., with Sylvester Stallone taking assuming writing duties for the sixth time in the Rocky franchise.
Michael B. Jordan and Tessa Thompson return as Adonis Creed (Jordan) and Bianca (Thompson) for another heavyweight bout with dramatic implications for their future. This time Adonis goes up against the vicious Viktor Drago, son of Ivan Drago, in the latest film from the franchise.
The biggest concern heading into Creed II was the loss of visionary Ryan Coogler in the director's chair. He brought his talents over to the MCU with Black Panther en route to grossing $1.3 billion at the box office worldwide. Needless to say, Coogler didn't need another Creed film to have dump trucks filled with cash backing onto his lawn. Surprisingly enough, when the trailers were released there was still a sense of style being implemented into this new wave of films in the franchise. With 2016's The Land being the only film under Caple's belt, and having to follow up Coogler, Caple was a true underdog in this scenario. Much like the protagonist, Caple tightens his gloves and goes the distance to make Creed II better than we could have anticipated.
With news of Drago returning to the franchise there was cause for concern regarding the route Stallone was taking, especially when you take into consideration the heavyweight title was vacated after the events of the first film. A storyline which seemed to bode well for the natural progression of the entire franchise. Surprisingly enough, the story told in Creed II builds a case for its existence and there's plenty of drama that peaks in a thrilling bout for the ages.
Creed II follows in the steps of past films in the franchise in being released around the Thanksgiving holiday and goes well beyond just catering to a family-friendly experience for the big bucks. The Rocky franchise has always been about supporting the protagonist and that continues with Adonis and his journey. If anything the Rocky/Creed franchise has always been about being thankful for those around you and how they help one achieve such monumental goals and aspirations. Creed II is no different as it showcases so many different lives from different perspectives and the multi-generational familial bonds. On top of that, the in-ring boxing and montages earn their stripes and Creed II continues so much of what we love about the franchise.
As you've read, Creed II is another knockout. Filled to the brim with compelling characters, engaging narrative, and cheer-worthy boxing. Jordan, Thompson, and Stallone all deliver another great performance in this second chapter of the legacy of Creed.
Written by Roman Arbisi