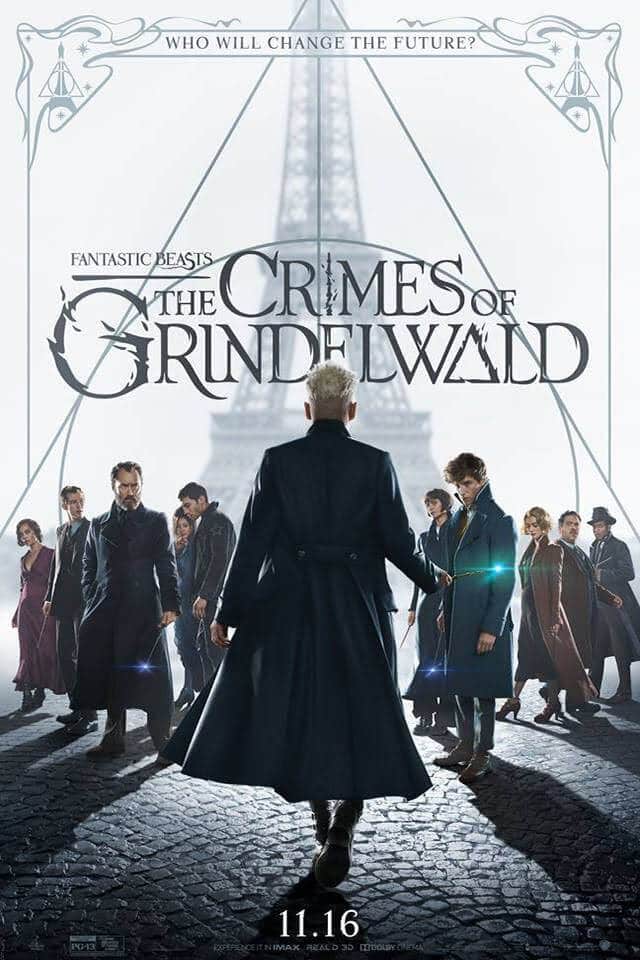 "Fantastic Beasts: The Crimes of Grindelwald" is written by J.K. Rowling, the author of the Harry Potter franchise and writer of the previous entry into the Wizarding World, "Fantastic Beasts and Where to Find Them".
The Crimes of Grindelwald also sees director David Yates return for a sixth straight endeavor into the realm of witches and wizards. Once more, Eddie Redmayne returns as Newt Scamander alongside Dan Fogler's lovable Jacob Kowlaski, with newcomers Jude Law as Dumbledore and the controversial Johnny Depp as the titular Gellert Grindelwald.
First and foremost, The Crimes of Grindelwald excels in its visual effects department. Many frames crackle like raging bonfires and also deliver intimate explorations of character. Partnered with a surprisingly memorable score from James Newton Howard that injects plenty of magic into the film. Unfortunately, outside of the score, visuals, and lastly the performances, The Crimes of Grindelwald is a convoluted misfire.
As mentioned previously, every performer is utterly delightful in their respective roles. Each character brings such a fascinating dynamic to the screen that feel uniquely different from the rest; most notably, Jude Law's earnest Dumbledore that channels more of Richard Harris' Dumbledore from the first two "Potter" films. When it comes to blockbusters, the casting of Johnny Depp as Grindelwald was the most confusing as Depp has been trending downwards for years now and his replacing of a much more favorited Colin Farrell in the previous film left fans scratching their heads. Depp still manages to be entirely competent, believable, and occasionally exciting in the role. A strange blend of what we love about Dumbledore and the rumblings of a potential Voldemort-type is what we see in Grindelwald. These are the two biggest standouts in a stacked cast where its leads are outshone by its supporting characters, primed to potentially takes the lead in future installments of the franchise.
Regarding the issues facing this film, it all boils down to the most pivotal "chairs" in film-making―the writer's chair and the director's. J.K. Rowling is a renowned author that spawned one of the biggest phenoms pop culture has ever seen. Her books are some of what many would consider the epitome of fantasy novels. There's no doubt that Rowling is a great author, but being a great author doesn't make one a great screenwriter. This is ultimately what fails The Crimes of Grindelwald. The plot is relatively straightforward as so many factions of characters seek to achieve the same goal. This should provide engaging conflict and electric motivation, but there's a failure in making it such, as the movie diverts its attention to explore other characters we have yet to meet or know next to nothing about.
The Crimes of Grindelwald is written like a novel and that is its biggest issue as novels (lengthy ones at the very least) usually require a more methodical pace so there is a proper exploration of all moving pieces on the board. Conversely, movies can be methodical and deliberate, but bad versions of those type of stories fail to warrant such run-times or content in that time. The Crimes of Grindelwald isn't too long but it wastes time by introducing far too many characters which creates a convoluted mess from start to finish. David Yates doesn't help either as he appears to be losing his passion for this universe. So many moments feel lazy and uninspired which reveals a worn out individual who doesn't have anything creative left to offer. All four of Yates' Potter films (Phoenix, Half-Blood, Deathly Hallows Part 1 and Part 2) each have an underlying identity to its narrative focus. For example, The Order of the Phoenix is a movie about government control, or The Half-Blood Prince being an inside man thriller. Here, The Crimes of Grindelwald suffers an identity crisis as there's a clear lack of themes, undertones, and youthful energy that we've seen in previous films.
Listen, The Wizarding World isn't on the path of Universal's The Dark Universe, but it's trending downwards. The only way to right the ship is to start with a top down reconstruction of those overseeing these projects. Yates' passion and creativity is clearly gone and Rowling just isn't a particularly great screenwriter. Introducing new faces, ripe with energy, potential, and creativity to take over would give this universe more of what allowed so many moviegoers to become enamored with this franchise in its earliest days. Those were the days when the child-like wonder of Chris Columbus could transition into a perfect blend of what Alfonso Cuaron delivered in The Prisoner of Azkaban, which constantly gave audiences a fresh, new voice that envisioned this world with their respective characters to provide for a new experience that felt familiar every time. The Harry Potter saga is the embodiment of perfect franchise film-making, but this franchise needs some rejuvenation now more than ever.
Written by Roman Arbisi