In the intro to her show, she was described as a woman of extremes. I only saw one side of her on Saturday night- intense. We were also told she just came from busking on the streets in Florida. If that's true, she earns some serious cool points.
She came out wearing a green John Deere hat that completely covered her face until well into her first song, which made just seeing her face an event let alone hearing her music. This was her first time on the road with her own band so even if you had seen her perform live before, this was going to be different.
She started out with the song Fuck It which showed off her big jazz voice over some Reggae vibes. What's intriguing about Jessie Reyez is her emotion; she looks like the kind of person who wears her heart on her sleeve and doesn't pull any punches. We saw that emotion on stage on Shutter Island. Watching her sing, "My straight jacket's custom-made though" and dance wildly made me stand there in awe. She looked crazy as hell, but that's what the song is about.
Then she put her hair up in a bun and channeled her inner Amy Winehouse on Phone Calls. I compared her to Amy Winehouse as soon as the show started without even knowing that Amy was a major influence on her, but when Jessie Reyez put her hair up…damn.
Throughout the show I was trying to find words to describe Jessie Reyez's style and it was during Phone Calls that I found it – she has a big jazz voice with hip-hop aggression, and this is what sets her apart from Amy Winehouse. Reyez is an activist and unfiltered voice for change in a way that Winehouse wasn't.
She did make me cringe a few times. Aside from swearing every few seconds, she performed a song with some serious groove and funk where she asks in one line, "Does my pussy look better than my heart do?" It's a positive message but framed in a somewhat crass way. And then in her performance of Body Count she said, "I dodge dick on the daily." The video of Spiderman, Neo from the Matrix and random people dodging giant eggplants was hilarious.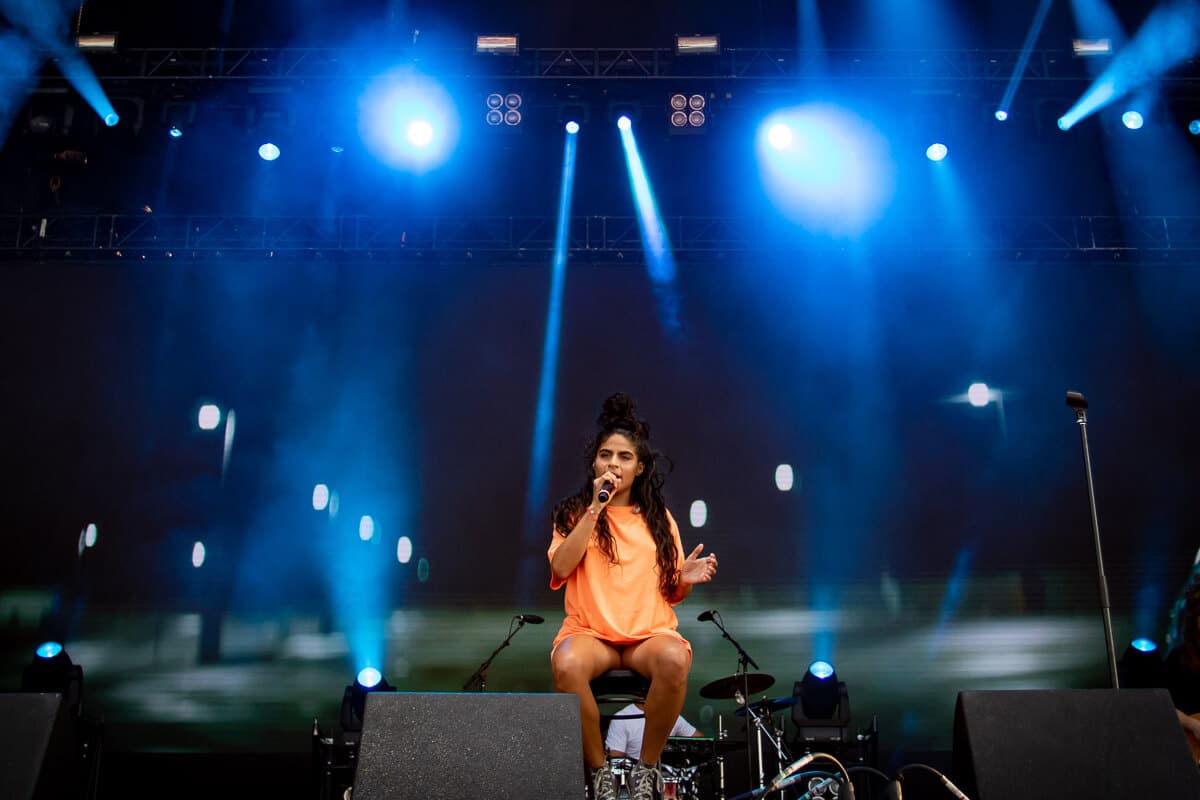 There was also a fair share of inspirational moments. Prior to performing Gatekeeper she gave support to the #MeToo movement and told a story about being told by a producer at a young age that she needed to "suck dick" to get a deal. These were the most powerful lyrics of the whole show. "Oh I'm the gatekeeper / Spread your legs / Open up / You could be famous." For this song she let her hair out and got fierce, like she was in a battle for her life. When she was done the crowd responded by chanting, "Jessie! Jessie! Jessie!" She put her hand on her heart and took in all the love.
The other inspirational moment was when she reflected on her rise to fame. She explained to the crowd that she'd been chasing this music dream since she was little. She used to suck, but she had to put in work. She encouraged the crowd to go after their dreams as well. She went back to her YouTube and Instagram roots and did covers of Chance the Rapper's Cocoa Butter Kisses, Schoolboy Q's That Part, and Drake's Headlines. As a Toronto native, this was a cool moment. A new artist, who's so "Toronto" covering the biggest artist in the world who's also from Toronto.
She also took some time to reveal a few unreleased songs, the first one being a song that she jokingly called Apple Juice. It's an old school sounding soul song that would make Motown proud. It's not exactly on Amy Winehouse levels, but very close. With a red Solo cup in hand, it started out soft, but then she went in and back came the aggression. Proud of her Colombian heritage, she also performed an unreleased Spanish song which she wrote, her first, accompanied by "Heather" on acoustic guitar.
Just before closing out the show she performed Figures which she wrote two years earlier while battling depression.  But she didn't want her fans to leave the show sad and thinking about their exes, so she performed one more turn up song, Blue Ribbon, to close, complete with booty popping.
Jessy Reyez was worth the wait. She has a deep sense of self and personal freedom that's refreshing but at the same time leaves you feeling pretty uncomfortable. Perhaps that's what makes her a great artist.