Loud. Obnoxious. Overbearing. Idiot. In the process of describing LaVar Ball to your friend that has been living under a rock for the last six months, there's no shortage of words that come to mind. Ball has easily become a polarizing figure in the sports world and the hype train surrounding him and his born and bred basketball star sons doesn't seem to be slowing down anytime soon.
In our media feasting, information hungry culture, LaVar Ball has been everywhere- ESPN, Slam Magazine, Sports Illustrated, Sportscenter, and on every other post on your social media feed. Day by day another LaVar Ball soundbite becomes available for the media and sports world to over examine and scrutinize, looking for plot holes in the real life fairy tale of a man and his three basketball playing sons with the last name "Ball". Really?
The real story here is about a man who is playing the system instead of being played. LaVar isn't a blow hard trying to gain personal attention. He's a marketing genius; every move he makes is calculated. Nothing he says or does is unintentional. It's all purpose-driven. As they say, there's a method to his madness, and I don't understand why those who stop to observe his every move can't see it too. It's blatantly clear there's an agenda at play here and until he gets what he wants, sports media outlets will be inundated with more stories about Ball himself instead of his would-be phenom sons. I'm not far off the mark with my theory in saying he's a marketing genius and here's why:
1. He knows exactly what he wants. Say what you want about LaVar Ball, but his intentions are clear and consistent- get his three sons Lonzo, LeAngelo and Lamelo to the "League" as quickly as possible. How does that happen? Exposure to the right people. How does he get their attention? By opening his mouth. No matter what comes out, it gets people's attention, which in turn gets people to know about his sons. MJ, Lebron, and Steph Curry are just some of the names he has ridiculously compared himself or his sons to in order to get a reaction from the media and those gullible enough to believe it. In LaVar Ball's world, no publicity is bad publicity, and it's working. Networks want him on their shows and Nike's own Phil Knight has already admitted interest in signing Lonzo to a shoe deal.
2. He's playing the odds. Simply put, if LaVar Ball is going to have a NBA player for a son, there's a higher chance it will happen if he raises up all three to have "ball is life" as their personal motto. A good marketer always increases the probability of reaching their goal. He's no fool. He could have stuck with Lonzo, who at this point is the best of all the Ball brothers. But he couldn't take the chance of injury or Lonzo taking up an interest in something other than basketball. LeAngelo is set to enroll in UCLA next season and LaMelo in 2019. LaVar has already proclaimed they will all be "one and done" players in college.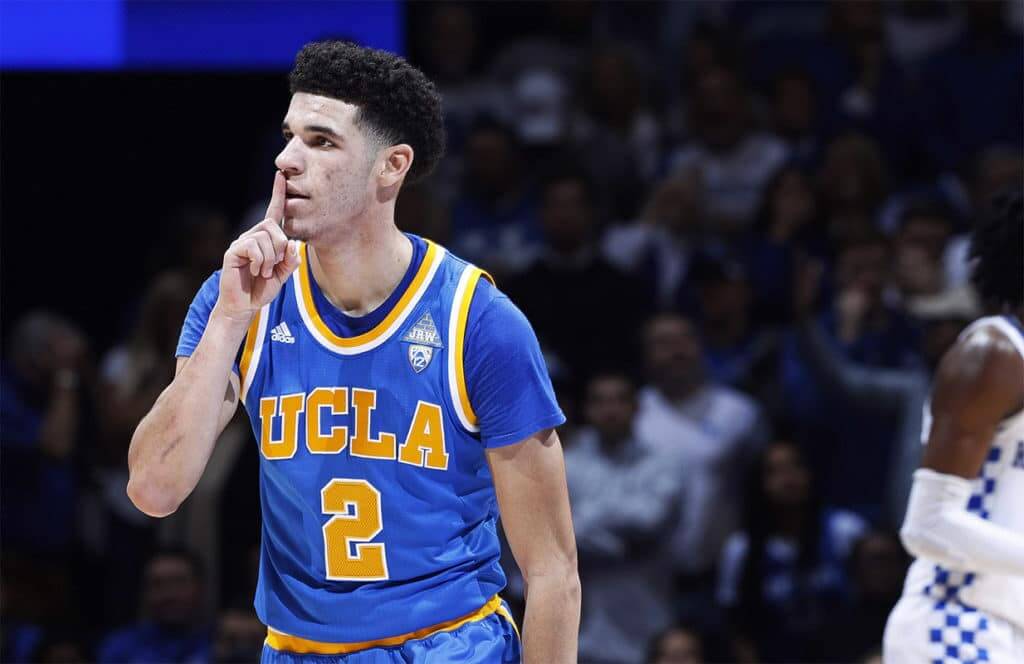 3. He created a brand that's already stuck in people's heads. As I'm writing this piece I can still see the logo in my head- 3BB, which stands for "3 Baller Brand". It's not the most delicious of brand names I've ever heard in my life, and from a creative stand point the logo has left us with much to be desired. That said, in the basketball world, 3BB is a known commodity and that was the point. Before his first son Lonzo stepped onto the court for UCLA as a Freshman this past season, the 3 Baller Brand was already making traction in basketball circles. From LaVar's own words, "If UCLA can exploit my son, why can't I? He will be the first player ever drafted that has his own apparel brand." Everywhere he goes, in the stands for nationally televised basketball games, ESPN television appearances, magazine articles, the 3BB logo can be seen either on a t-shirt or baseball cap.
"If UCLA can exploit my son, why can't I? He will be the first player ever drafted that has his own apparel brand." -LaVar Ball
4. He's not interested in small potatoes. As mentioned earlier, LaVar Ball has no fear in calling out some of the most prestigious figures in sports today to continually make a name for himself and his sons. Some of the most notable (and ridiculous) soundbites have been, "He's going to be better than Steph Curry" and "Back in my heyday I would kill Michael Jordan one-on-one".
Then there was a media feud with Charles Barkley after he said "If Charles thought like me, maybe he'd win a championship." He even said Lebron's sons probably won't be half as good as Lebron has been over his career. He has repeatedly said he wants the Lakers to draft Lonzo this year and has boisterously requested a $1 billion shoe deal for his sons. These and many other antics were part of the reason he was invited to spar with ESPN's First Take  resident loudmouth personality Stephen A. Smith…twice!
I'll admit, while there's definitely a method to his madness (or what some might call stupidity), LaVar Ball has missed the mark several times with head scratching remarks such as commenting recently, "Realistically you can't win no championship with three white guys because the foot speed is too slow". Seriously, I'll just leave that one alone. And then there are other stranger stories like the one about his house being burglarized during his son's NCAA Tournament game. For a public enemy like LaVar Ball, that story seemed almost too perfect. Like it was a "set-up" for the professional attention seeker. But, the very fact you stopped to read this entire article speaks to his marketing mastery. His name is trending alongside the War in Syria. Think about that for a second. That, in and of itself, proves that in order to be a savvy creative marketer today you don't need a fancy degree. And by declaring that all three of his sons will leave school after one year of college, it looks like LaVar Ball lives by that sentiment too.