Kevin Bourne recently had the opportunity to sit down with digital artist, and Canada Goose and Xbox collaborator, eepmon, to talk about his creative journey, collaborations, and advice for upcoming artists.
Kevin Bourne: I'm here with Eric Chan, aka eepmon- a digital artist born and raised in Ottawa, Canada, doing great things all over the world. We're sitting here at Bridgehead down on Rideau Street, talking about art and creativity. So first, just tell us a bit about your journey and how you got to where you are today.
eepmon: So I was born in Ottawa, Ontario. As far back as I can remember, around four years old, I began to draw. I had this obsession with traffic lights. I just loved the colours, and the way the lights changed. For some reason yellow, red and green lights represented different facial expressions, and I would just frantically draw these traffic lights. I would say this was the start of my interest in technology in a way because I found it so fascinating that it could change signage and control traffic. It had this ominous, God sorta control over these people.
Then, of course, as I grew up Transformers had a big influence on me. I was always looking at Optimus Prime and I would draw all the details the best that I can. I was really trying to create these epic battles between the Autobots and Decepticons.
Then into high school, I attended Canterbury. I took a visual arts program and that's where we learned life drawing and had access to ceramics, photography and Photoshop version 3.
To jump back, Nintendo was really a big thing and I was obsessed with Super Mario. It was traffic lights, Transformers and technology combined into one, and I was obsessed with looking at exactly how many pixels Mario was on the screen and draw it on grid paper. So all through elementary and high school I was known as the guy who could draw all these characters.
KB: Cool.

EEP: After high school I was at a loss. I wasn't confident; I didn't know what I wanted to do. At the time my view of becoming an artist was painting and life drawing and to expect little pay. My peers were creating amazing realistic paintings…meanwhile I was "painting" with Photoshop. I was the odd ball who didn't fit in. Photoshop wasn't considered a form of legitimate art. It was laughed at; wasn't taken seriously. Using digital tools wasn't considered a form of legitimate art.
KB: Yeah, you were ahead of your time.
EEP: Yeah, seriously right. Looking back now I was totally ahead. So after I graduated I was like, "I don't know what to do. What the fuck am I going to do?"
So I decided, you know what, my grades weren't that great but I was fortunate enough, and I have to thank my mom for this, but since I liked computers I took computer science at Algonquin College. That was where the world of programming and technology solidified and entered my world. One of the courses was JAVA programming. JAVA had a library called Swing components…creating user interface sorta stuff and visual things happen when a button is pressed. It was much more interesting than seeing things purely on command line.  I was like, "Wow, this is really cool", because now it's like Super Mario, traffic lights, Photoshop and I'm the one making it all happen.
Fortunately, I had a co-op opportunity working at Corel as a Quality Assurance Specialist. I would always walk by this group of guys who seemed like really cool designers. I decided on the last day of my co-op to email the manager and just meet her because I was interested in what they're doing and maybe I could show her what I was doing on the side, aside from the computer science stuff, which was my computer art and design work. She proceeded to look at it and then she looked at me and said, " You did this?"
I didn't think much of it because at the time I had no confidence; I didn't think art would be a career for me. She was so impressed that she hired me right on the spot. She said, "For your next co-op term you'll be a User Interface Designer". That was the eureka moment. I was like, "Holy shit, Eric! How dare you try to reject the thing you really love to do!", because I wasn't confident. That was when I understood that as much as you have to create art, you also have to put it out there. You have to do both to really get the recognition.
KB: So where did "eepmon" come from?
EEP: eepmon started through Carleton University. After Algonquin I took Carleton's Interactive Multimedia Design program. At the time I was doing a lot of Flash, website interactive work. Then I decided why not compete in a Flash competition? By competing I could measure my ability against other people. Along the way I did win awards which was great. So it's a mixture of marketing, creating content, art, the hustle of getting out there, good projects and elevating your brand, and so here I am today. It was a long journey and I still think I've just started.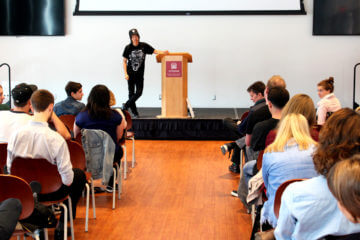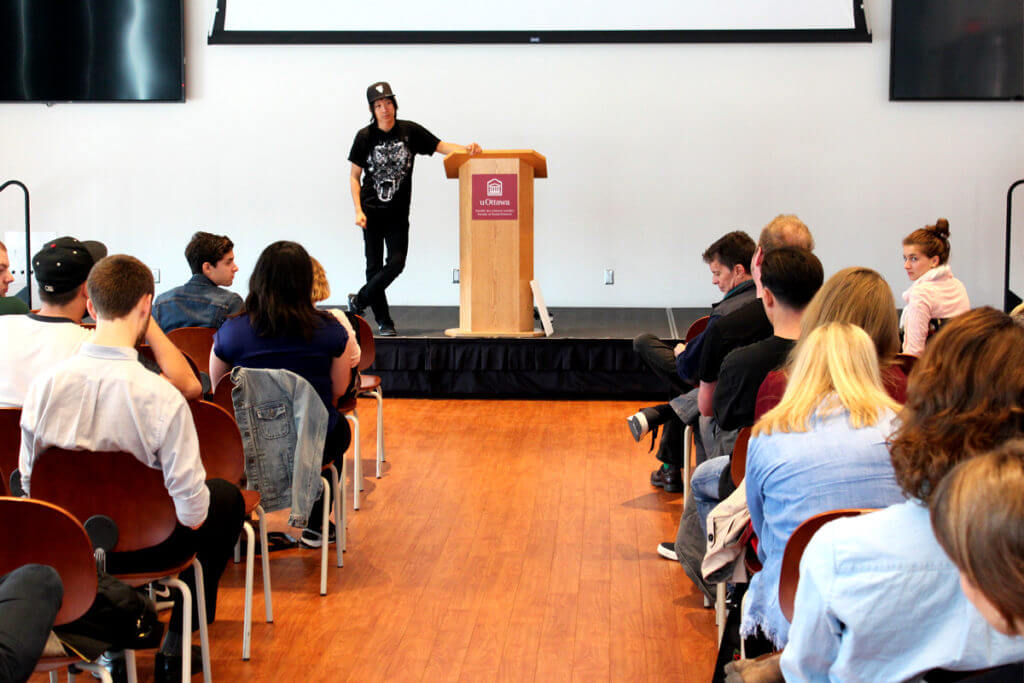 KB: So who were some of your creative icons growing up? People who inspired you?

EEP: There are a couple of people. One artist, one contemporary artist, Sol LeWitt. I think they have one of his pieces at the National Art Gallery. This guy is a contemporary artist; old school. His method of creation was that he always believed that the idea was paramount; as long as you had the idea everything else comes secondary. So all his work, as I understand it, he never touched his paintings. How he did it was he had an idea and he would write instructions on a piece of paper as if it was like code. He would give his instructions to the draftsmen and he would create the installation. So he had the thought that, "I have the idea; everything else shouldn't matter." So that was his way of doing it.
So that was one. Another one was an artist by the name of Joshua Davis. He really cemented the idea that art and technology can come together. He was an artist and also a coder. He would actually code algorithms to create compositions. I was fortunate to be in one of his talks at FITC in Toronto. This was really before the terms "new media" or "creative technologist" or any of buzzwords were defined. He actually showed that you can use computer code, art and visuals to create and show artistic expression so that really blew my mind.
Of course, Takashi Murakami. He represented an aspect of Japanese culture, of model culture, super flat, but at the same time there was history to his creations as well.
Other people of inspiration? I really admire Dani Reiss, CEO of Canada Goose. He started a brand, a heritage brand. He emphasized the importance of "Made in Canada" when everyone else was going offshore. He thought differently. He believed that there was value in creating things within the national borders. He understands craftsmanship and quality. It can be seen through the strength of the brand today, heralded as an international luxury arctic apparel company. Incredible.
I'm very inspired by people who are business minded, so anywhere from art to entrepreneurs. It's pretty much across the board when it comes to people I am inspired by.
KB: What is creativity to you? What does it look like to you? If you could define in a few words what creativity means to you?
EEP: For me creativity is really looking at the world at a holistic level; looking at things very macro. By viewing it really high up you become more aware of situations because there can be more than one reason why things happen. When I look at things holistically I don't just think about creating artwork but I think about where I am presently, where I need to go, and the direction I need to move.
So when I see creativity it's not just about drawing or creating but it's really about looking at the world. You start to see patterns happening and then based on these patterns your intuition tells you where you need to go. So creativity is really looking at the bigger picture. That's what creativity means to me.
KB: So in the past you have gotten to collab with Canada Goose, Microsoft. What would be some of your dream collabs? If you could collab with a certain company or person?

EEP: So fashion wise, one brand I would really like to collaborate with is Issey Miyake. They're very avant garde, very contemporary, yet so simple with their approach to creation that the very material itself stands out. It also speaks to the Japanese culture, that zen…Like, "It is what it is." This is the shape. This is it. It's between functional and abstract, but yeah Issey Miyake is one of the brands I would love to work with. Who else is there?
Kevin: Drake? Kanye?
EEP:
Ah. As far as Drake is concerned, you know what's funny? My Canada Goose jacket was next to his Canada Goose jacket at one of the Design Exchange Museum exhibitions in Toronto. It would be cool to do one with him. If it happens it happens. I've been building some really great relationships in Hollywood. I think definitely collaborations in that space is key. As to who it is? I don't know. But if Drake's down, then yeah, why not? But I'm also looking at contemporary furniture brands as well. There's one brand called Emeco; they're based in Baltimore. They make beautiful aluminum chairs; you've probably seen them. There are a lot of knockoffs, but they're the originators of this aluminum chair, and they're known for the 11 step process. There's 11 steps to make this chair. I met the guys when I was in New York. They've collaborated with renowned architect Frank Gehry. They've done some really great collabs.
Kevin: Cool. So next question. We kind of touched on this before we started recording, but with some artists there tends to be a tension between art that you create for yourself and then art that you create for clients to pay the bills. Do you tend to feel this tension or is it all art to you?
EEP: Yeah, that's a good question. I would say it's all art because what I like about client projects is sometimes there are situations where I'm like, "Fuck, I've got to do it!", but then I do it and I go, "Wow, I learned something new!", but of course there's times where some of the clients like my older style and that's fine too. I always keep in mind  that I need to continue to produce personal work as well. Personal work will allow me to divert and try new things.
So if you've seen some of my past work, a lot of my work was very abstract and very organic. Now I'm moving into the phase of doing portraits. Actually, I'm wearing one right now. It's the monkey one right here…
Kevin: So that's your design?
EEP: Yeah, this is my design. deadmau5 has this piece. It started with this and then I did portraits of Bruce Lee, and the Bruce Lee estate in Los Angeles has them. Executive Producer of the Revenant, Brett Ratner has my Darth Vader portrait from my Star Wars series. I did some of Iron Man, Captain America, Generation-1 Megatron. That got me a gig to work with Marvel on a project because they liked my portraits.
KB: Wow.

EEP: I just came back from San Diego Comic-Con and the guys that have the license for Robotech want to work with me, so next year I might be at San Diego Comic-Con at the booth with actual product. Still in confirmation mode but you know this all started because I had to work my own personal stuff; I have to evolve. It was all a bit accidental, but kinda cool. I kept following my instinct.
So projects that pay the bills come from my art and my own personal creations. What I like to do is activate different parts of my brand. I'm not just creating for the sake of creating…what I'm really doing when creating is also thinking about how it affects the eepmon brand strategically and holistically. Once I've done that, I'm ready to move on to do something different. Maybe I'll travel or maybe I'll pitch my newly created artwork to potential clients or do a press release.
Even this collaboration with Bridgehead, for example. This piece on the wall [referring to a composition in the window] was inspired by my piece City Lights and now we're going to be doing takeout cups distributed to all 20 Bridgehead locations.
KB: Nice, nice. You mentioned branding. That leads me into my next question. This could probably be a whole book, but what's one piece of insight you could give someone on how to build a personal brand?
EEP: Oh, man. One piece of advice…
Kevin: Yeah. Maybe one thing that you've learned that's very important.

EEP: There's two, but they're definitely related. I would say to persevere, and that means persevere in creating and persevere in building relationships. But you know what? I'd probably have to say building relationships is one of the biggest things.
If you look what's happening now, everyone can now build their own personal brand from scratch. You can get your own product. You can do whatever you want. Anyone can start their own brand, but what's difficult to do is to build relationships. When you build relationships never expect things to happen the first time or don't expect a project to happen in the first meeting. You're meeting them because you genuine. Maybe there's potential that something can happen, but never come in thinking that, "I am absolutely right", "you have to have it", and "you have to work with me". I have had many project that have turned out and some that didn't, but that's fine because there's still a relationship there and if something does happen, one thing will lead to another and maybe they will think of me. So in order to build personal brand you need to build personal relationships in the industry, that's the name of the game.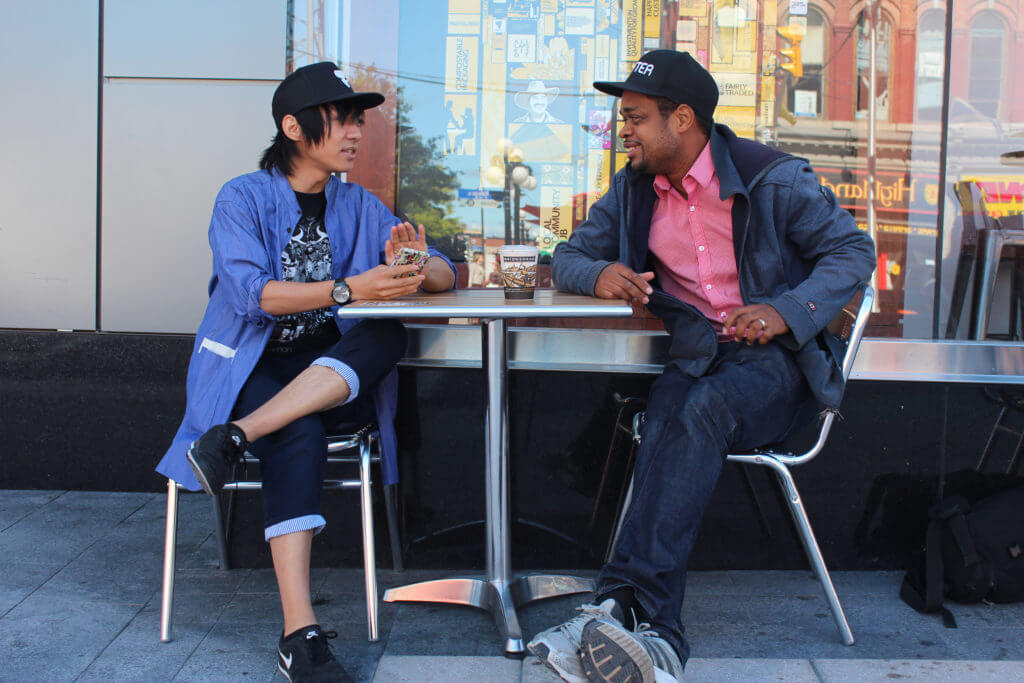 KB: Okay, last question. What's next for you? Say in the next few years, what's next for Eric Chan, aka eepmon?
EPP: Oh boy. You know what's funny? I always tell people I only think four to six months ahead. I have a goal in mind but it takes time to get there. I think eepmon is finally starting to scale a bit, but as to how that scales I have to really figure that out because my brand is very personal to me. But from what I have right now it's very solid. If I wanted to I could right now package this in a way and pitch to investors saying, "Look, eepmon has a very solid and reputable foundation. I believe there is an opportunity to take eepmon to the next level". It's scaling as an artist, as a merchant; selling product or something.
I've been doing eepmon for over 10 years now. It's pretty solid, but not many people know about me which I like, because I think it gives room for when they find out, like "Holy shit! He's done all this stuff! This is a no-brainer. We have to see how we can get eepmon into more channels". So I'm looking at Hollywood, the entertainment industry, and perhaps look into starting other brands as well.
I'm always on the move. Coming November I'm off to San Diego, Vancouver, Tokyo and Hong Kong. Why? Because to catch up with my comrades (a.k.a. relationships). Yeah, it's all about relationships. I'm going back just to reconnect with people.
KB: Well it was great talking to you. I am definitely inspired. I feel like I have a lot to go think about. Thank you. I really feel inspired to go create. Thank you and wish you all the best.
EEP:  Thanks man.
For more info about Eepmon visit instagram.com/eepmon