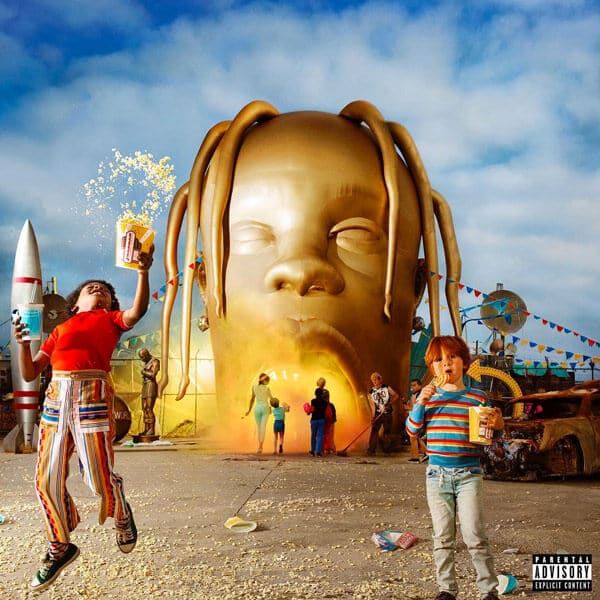 Astroworld projected to sell 422k copies in its first week
At only 26 years old, Travis Scott is back with his most successful album yet, delivering on all levels. For years now, the Texas-born rapper has been delivering hit after hit without receiving the acknowledgment he deserved as an A-list act. Sure, you've heard songs like Butterfly Effect and Antidote, but for some reason, Travis Scott always seemed to be categorized as "that guy with a few hits who also performs really well". Well, those years are now behind him, as Astroworld was on track to sell 325K copies in its first week (this number has since been readjusted to 422k), which puts it way above any original predictions.
If you follow hip-hop closely, you're probably aware that summer 2018 has been rather dramatic. From the passing of XXXTentacion to the Pusha T and Drake fiasco, things seemed to have erupted out of control, which made it very hard for certain artists to make headlines. For Travis Scott to release an album right after all the summer hip-hop drama, he had to absolutely believe that he could follow with his own momentum. Even more, dropping an album just a couple of weeks after Drake is quite the gamble, especially if you add the fact that Travis' last project only sold 80K copies (which is considered quite an accomplishment for most artists).
It sure looks like Travis Scott's gamble paid off. Astroworld isn't just a good project, it's Travis Scott's best project yet. From the features to the production and its overall cinematic feel, Astroworld catapulted Travis Scott to a main act as soon as the album concluded. The unique combination of modern R&B and trap sounds isn't an easy thing to achieve, especially when one considers how polarizing those sounds can be.
We also have to mention the features. Yes, Migos, Drake and The Weeknd are on it, thus proving how versatile Travis Scott can be. But the main highlight here is the guest appearance of rap's newcomer Don Toliver. His feature on Can't Say is probably the best one on the album which makes it the best song of the album by default.  Last but not least, Travis Scott might have found his new main ally in WondaGurl, a young female producer who's now making a strong name for herself in this male dominated field.
Have you listened to Astroworld? Has it changed your perception of Travis Scott as an artist or is this more or less on par with your expectations of him? Comment below and let us know.