Thursday night at Bluesfest was for the 80's and 90's kids. I gathered as much from the intro of hip-hop group Naughty By Nature. The show opened with a medley of classic songs, including We Will Rock You, before going into probably Naughty By Nature's second biggest hit of their career, OPP. DJ Kay Gee modernized it a little ad-libbing, "Slide up in the DM's. Slide up in the DM's". Similar to other Bluesfest shows, I was surprised they started with such a big hit right out the gate.
After 27 years in the game, Treach and Vin Rock decided to test the crowd's knowledge of hip-hop, playing a medley of classics including DMX's Up In Here, House of Pain's Jump Around, and Biz Markie's Just A Friend. They quickly went into their hits Craziest and It's On before going back into a medley of classics, from A Tribe Called Quest's Scenario to Montell Jordan's This Is How We Do It.
By now I'd figured out the formula to these old school hip-hop concerts- start with a big hit, then play your lesser known songs with a medley of classic non-hip hop songs and classic hip-hop songs interspersed. Then play your big hit to close. It gets the crowd involved, especially people who don't know their music. I think by now these old school hip-hop acts know it's young white kids who are going to their concerts so they need to play some music they know in case they don't know their music.
They then invited the crowd to go back in time to the year 1991 where they performed Everything's Gonna Be Alright. To close the song they had the crowd singing, "I love myself" as they made hearts with their hands and waved them in the air. With all the talk about suicide in today's music and culture, and the recent suicides we've seen, even older celebrities, the message was timely.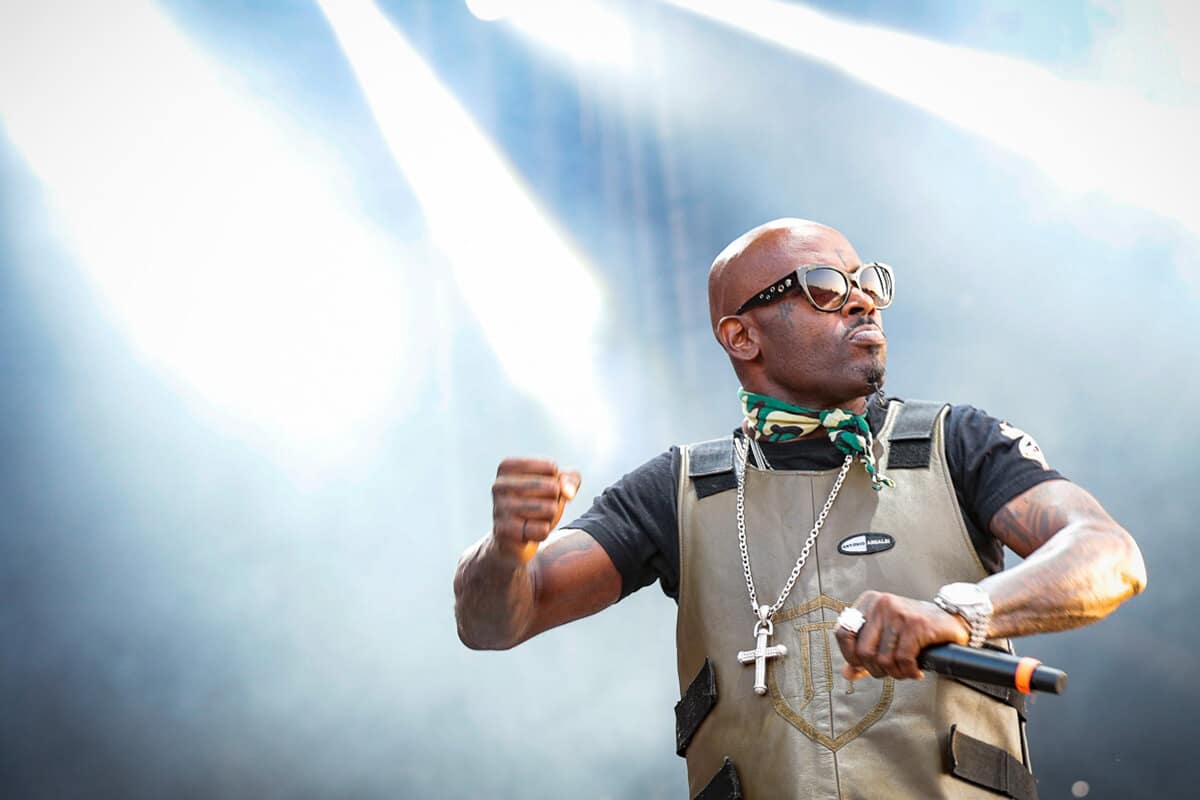 They played a few more of their songs before the highlight of the show, a tribute to Tupac and Notorious BIG, where Treach christened Ottawa "Outlaw Ottawa" ( that nickname probably won't stick). Treach brought out a bottle of liquour and honoured some of the OG's, including Tupac's mother Afeni Shakur, before going into Hail Mary, California Love, Hypnotize and Mo Money Mo Problems. I was personally hoping for Ambitionz Az A Ridah but that never came. But looking at Treach and the picture of him and Tupac on the big screen, I thought to myself Treach, more than anyone else in hip-hop, gives us a glimpse of what Tupac might have been like if he was still around today.
They closed with Feel Me Flow and their biggest hit in their 27 year career, Hip Hop Hooray, which has crossed over into the mainstream to Who Let The Dogs Out and YMCA levels.
Aside from the formula of the show, the other similar to Ghostface Killah, the other "throwback" hip-hop show at Bluesfest, was the throwback to real MCing and real hip-hop where the DJ commands the flow of the show and the rappers act as Masters of Ceremonies. Treach, Vinny and DJ Kay Gee never stopped talking to the crowd. The performance never stopped, especially for Treach. During songs he was performing and using props like a liquour bottle, and in between songs he was still performing. What we experienced was some of the best crowd engagement out of any show I'd seen at Bluesfest.
While I forgot how many hits Naughty By Nature actually had, my only criticism is that the concert felt too short. By the time Hip Hop Hooray ended I felt like we were just getting started. That was a bit let down. Other than that it was a great show and it was great seeing the audience of 80's and 90's kids mixed with millennials still coming out in droves to see Naughty By Nature perform after 27 years in the game.