Social media is buzzing since Capcity Hip-Hop released its top 50 Ottawa rappers list. Since then a few lists have emerged so I decided to weigh in on the action. I've been to a lot of studio sessions, rap cyphers, and live shows. I've reviewed quite a few local albums, played local music on our radio show, and written my monthly Ottawa music video roundups so I have a pretty good idea of what's going on.
Now, quick disclaimer. Before you label me an "old head", I actually spend more time listening to trap and modern hip-hop than I do the older stuff, but I'm very particular about what a "rapper" actually is.
So here's some fine print about how I selected my rappers:
1. They have to either be living in Ottawa, or living elsewhere but repping Ottawa, or they have to be spending significant time in Ottawa. As a result I excluded artists like Belly and Dax. I personally don't see the point in including people who aren't really repping the city. Drake is a Toronto rapper because he actively reps the city, spends significant time there and is invested in the community.
2. They have to be active, meaning if they haven't released music in a long time I didn't include them on my list. Unfortunately, for this reason I excluded the deceased, including Bender. We all are aware of his legacy, but I wanted this list to reflect the current state of Ottawa hip-hop.
3. I made a clear distinction between "hip-hop artists" and "rappers". Today, every rapper is a hip-hop artist, but not all hip-hop artists are rappers. My list is about bars. If an artist can spit but a good part of their catalogue, especially in recent memory is singing tracks, they were excluded as well. Farmers farm, fishermen fish and rappers rap. It's also important to note that a lot of artists today don't want to be labelled as "rappers"; they're "hip-hop artists". If that's a distinction you've made, don't get upset when you're not included on top rappers lists.
4. While it wasn't a prerequisite for being on my list, special consideration was given to rappers who can freestyle. Again, my list is about bars and spitting.
With that being said, I opted for a top 10 instead of a top 50. First, because this started as a radio segment so we capped it to keep it brief. Second, because I was guaranteed to leave someone out. And last, with the criteria I've outlined, there aren't 50 rappers in the city I'd want on my list. That's just me being honest. Once again, I wanted to make this list different and focus it on the craft of spitting, not social media buzz, streams or popularity. Those things matter but I'll leave that to my Top Ottawa Hip-hop Artists list (coming soon).
So let's get to the list.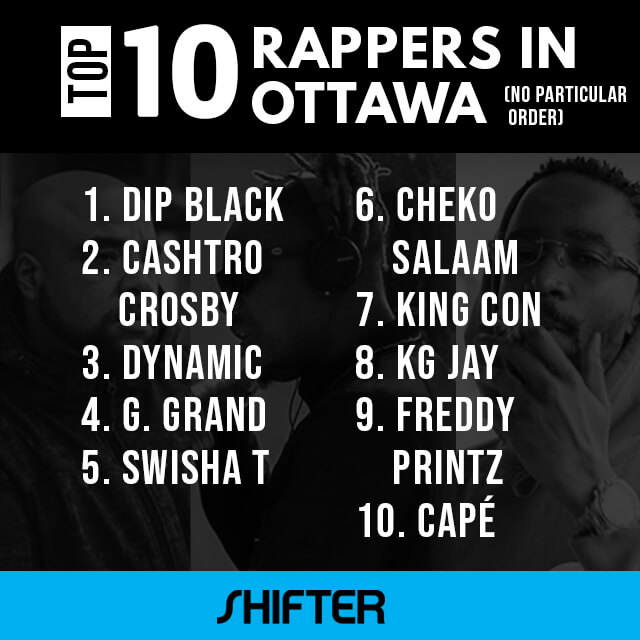 1. Dip Black
The only position on this list that I think is a lock is the #1 slot and that goes to Dip Black who didn't appear on other people's lists. When it comes to rhyming, there's nobody in the city that does it like this guy. There's only a few artists who I've had the opportunity to see cook in the studio where they had me amazed at what I was seeing and hearing. He has metaphors, wordplay, punchlines, flow and three and four syllable rhyme patterns like nobody else in the city, and he actually sounds like himself and not a clone of a famous rapper you know. Lastly, he's able to give you a variety of styles.
#2-8
Slots 2-8 are in no particular order. Any of these artists have a strong case for the #2 spot, or even #1.
2. Cashtro Crosby
I've seen Cashtro Crosby do his thing in the studio and on a street corner in a cypher. He can rap in his sleep. On his latest project, "4 Million Fans" mixtape, he showed off his versatility, giving you both classic and trap flows. Definitely underrated despite how long he's been in the game.
3. Dynamic
If you look up the word "MC" in the dictionary you should see Dynamic. Again, this is someone I've seen rap in a cypher on the street and in the studio. Rapping is effortless for him; like breathing. Like Dip Black, he's another artist who I've seen cook in the studio and had me amazed. He goes away, disappears, and comes back 30 minutes later with a ridiculous verse that has you scratching your head. He's crazy with the hooks and is able to do a variety of styles from classic 90's boom bap to modern "sing rapping". He also has one of the most engaged fanbases in the city.
4. G. Grand
G. Grand is one of the most slept on rappers in the city. He rivals Dip Black when it comes to his flow and delivery, and might even get the slight edge because he flows with little effort. He's also deep with the content. He'll force you to rewind so you can get everything he has to say.
5. Swisha T
I saw Swisha T perform once at Bourbon Room and he put on a pretty good show. He's been one of the more successful local rappers in recent years and has that mix of lyricism and star presence.
6. Cheko Salaam
Cheko Salaam is Ottawa's Tupac (if I had to make a comparison). He's a master storyteller who also uses his art form to talk about important issues. And as G. Grand's partner in the group Tapas, he can also give you some dope flows.
7. King Con
I don't think there's anyone in the city who eats, sleeps and breathes hip-hop like this guy. Out of everyone on my list, this is the guy who will take your head off in a battle. If you're going into the fight of your life (music wise) you want him in your camp. His voice is menacing and like Dip Black, can dish out his fair share of three and four syllable rhymes.
8. KG Jay
KG Jay is another artist who can give you some serious bars and delivery, while also singing and giving you some modern sounding bangers. But don't get it twisted; he can rap.
9. Freddy Printz
Freddy Printz is versatile. He's adapted to the new sound of hip-hop yet he can give you bars. Exhibit A, his Gonna Love Me Remix freestyle. It looks effortless when he raps.
10. Capé
With a last spot up for grabs, it went to none other than Capé. I considered a few other rappers for this spot, but Capé got the edge. He's young but he's clearly a student of hip-hop. He's another versatile rapper who can sing on a track and give you that new school vibe, but give you bars and great delivery. I recently saw him perform live at the Overflow Brewing Company and he had the crowd jumping and waving their hands. He's an MC. When he performs on stage he gets a crazy look in his eye, especially when he goes into machine gun flow mode.
Honourable mention: SawBuck, Hevve, JKing, Lance Lorenzo
That's it for my top rappers in Ottawa list. Comment below or on our social media accounts and let us know what you think.
Next up, our top overall hip-hop artists in the capital. Stay tuned.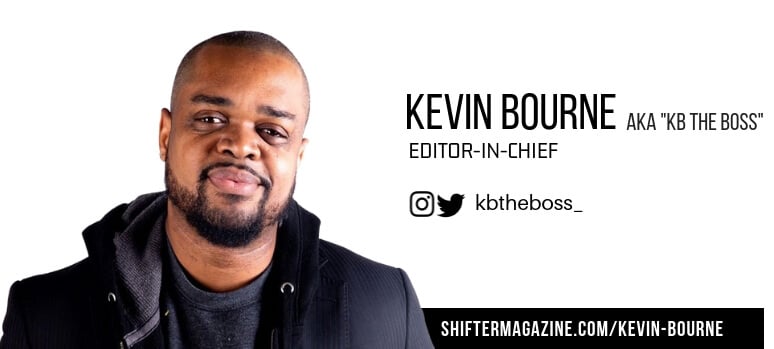 ---
Listen to the Morning Shift, Ottawa's hip-hop morning show, Monday to Friday, 6am to 8am