February 1st marked the 54th birthday of Japanese artist Takashi Murakami. In celebration of one of the world's most talented artists, let's look back at one of my favorite fashion collaborations.
Elegant, chic, timeless, and iconic are all words that come to mind when I think of the Louis Vuitton branding. The first time I ever saw a Louis Vuitton handbag was when I was a child. My mother was given the Speedy 30 as a gift years before I was born. I was completely mesmerized by the "LV" monogram; I loved how it stood out in camel colour against the dark brown leather and its patterning alongside the flowers. There's something so intricate yet simple about the pattern and that's what stuck with me; how something so pared down could make such a statement.
In 2002, Japanese artist Takashi Murakami collaborated with Louis Vuitton's creative director at the time, Marc Jacobs. The two created the Monogram Multicolore canvas which showcases the Louis Vuitton signature in thirty three different colours. Murakami's further collaborations with Louis Vuitton include the 2008 Monogramouflage collection and the Cosmic Blossom collection in 2010. Marc Jacobs explains his collaborations with Murakami as the infusion of the artist's spirit and presence with the history of the Louis Vuitton brand.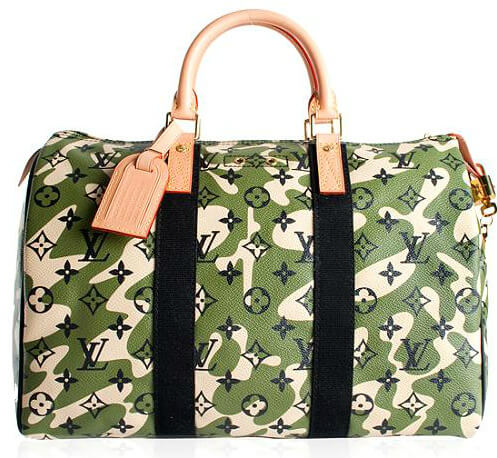 The aesthetic Superflat was created by Murakami and featured in his work with Louis Vuitton. The term denotes a form of modern Japanese art that has compacted, or "flattened", various types of graphic design, pop culture, and fine arts. The term "Superflat" has a double meaning for Murakami; it references not only the two-dimensionality present in Japanese animation and comics but the lack of depth in consumer culture. This double meaning makes the collaboration a bit ironic for Murakami, with Louis Vuitton being one of the world's most valuable luxury brands. Murakami is quick to explain his work and that of other Superflat artists as paradoxical; they have created their own version of pop culture by drawing attention to the various industries they critique.
Takashi Murakami's philosophy and artwork rejuvenated the Louis Vuitton monogram and made me realize you really can improve upon perfection.