This past Thanksgiving I made the long trek from Ottawa to my hometown of Mississauga, Ontario as I usually do almost every Thanksgiving. Our destination was my mom's house on Bristol Road that I called home for 16 years.
The city just west of Toronto has changed a lot since I moved there 28 years ago. The year was 1991 and I was 11 years old. We just moved from our apartment on Keele Street in North York and my sister and I weren't having it.
The sign welcoming us into our new home read "Population 383,000". There was a horse farm across the street (something we secretly loved) and the whole neighbourhood smelled like manure. My parents' room faced what would later become downtown Mississauga. The only thing visible on the skyline at the time was the tower from city hall.
Almost 30 years later, the population of the city some simply call "Sauga" has more than doubled to over 800,000. The farm across the street from our house was replaced by houses, and the view from my parents' room is now full of tall buildings.
After seeing our neighbour to the south, Brampton, have a little run with the rise of stars like Tristan Thompson, Director X, Alessia Cara and Tory Lanez, I wondered when Mississauga would have its time. Well, it seems like Mississauga is now starting to have a run of its own. Here are five signs Mississauga is on the rise.
1. Mississauga athletes are excelling at the highest level (Bianca Andreescu, RJ Barrett, Dillon Brooks)
Sitting in my living room in Ottawa and watching the "She The North" rally for U.S. Open winner Bianca Andreescu in Celebration Square in downtown Mississauga almost brought a tear to my eye. It was one of those moments that made you proud to be from Mississauga. Mayor  Bonnie Crombie, Toronto mayor John Tory and Prime Minister Justin Trudeau were in attendance. It's not everyday that Mississauga gets to shine in the national and international media, but this was Bianca and Mississauga's day. Add to this the rise of RJ Barrett and Dillon Brooks in the NBA and you have the start of a culture of Mississauga athletes excelling at the highest level
2. Hip-hop is on the rise (Anders, RamRiddlz, Dboybennett and Fame Holliday)
Artists from around the GTA tend to get lumped into being a Toronto artist, but Mississauga is producing its own crop of hip-hop talents. Although Partynextdoor has been pretty quiet in recent years, artists like Anders, RamRiddlz, Dboybennett and Fame Holliday, who I had the privilege of seeing perform live at the April edition of Taste of the 6ix, are gaining momentum.
Seeing I now live in Ottawa, I hadn't been following hip-hop in my hometown, but that changed earlier this year when I saw a music video from Dboybennett which we featured in our Toronto music video roundup for March. It features the downtown Mississauga skyline, which you could easily mistake for the Toronto skyline, as well as the Hurontario and Dundas intersection.
3. Sheridan College is expanding…again
Sheridan College has been steadily expanding its presence in downtown Mississauga. After adding a second building to the campus, the latest expansion includes a student and athletics centre set to be complete in Fall 2020.
4. M City
I'm a big follower of real estate development and architecture and the M City project has me flat out jealous that we don't get projects like this in Ottawa. Home to the Marilyn Monroe buildings, Mississauga consistently punches above its weight when it comes to architecture and development. With buildings as high as 81 storeys, this is going to be even more of a game changer for Mississauga. It's a wonder other cities, like Ottawa (cough, cough), don't have this level of aspiration.
Because of projects like M City, Mississauga finally has a legit downtown. Cities around the GTA, including Markham and Vaughn are all at different stages in building their own downtowns, but none are as advanced as Mississauga.
5. LRT is coming
Last week, the latest renderings for the Hurontario LRT were revealed and the portion at highway 403 near Square One looks like something of the Jetsons. When they were first revealed I sat there staring at them for five minutes wondering how this will change life in the city. The line will connect to the Square One GO Bus terminal through a LRT-only bridge. This will be a huge transformation for the area. Overall, the LRT will cement Mississauga's place among big cities in Canada.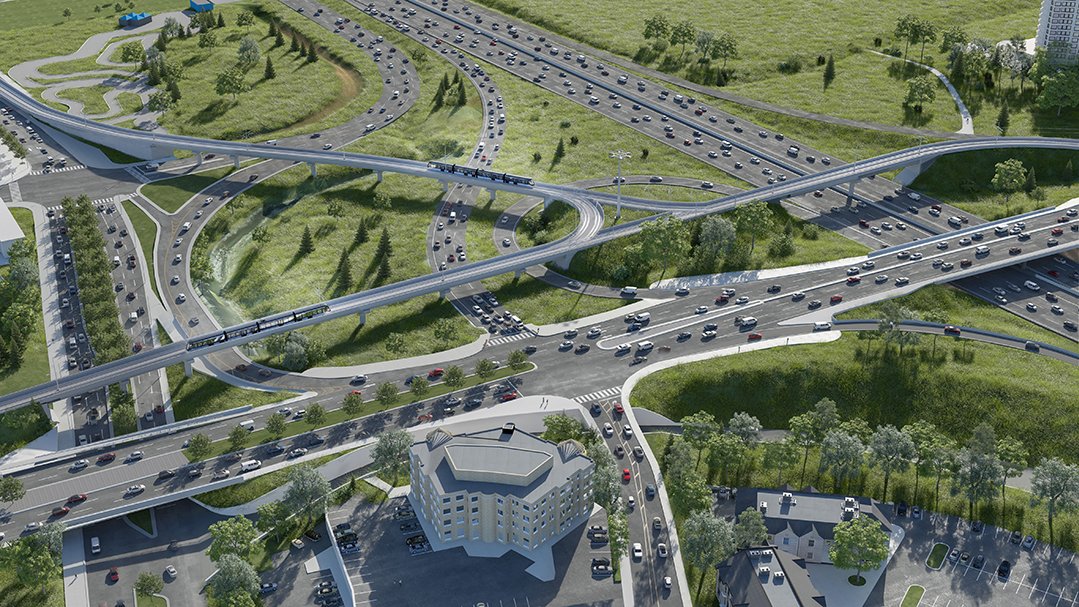 It'll be interesting to see how the city will continue to evolve in 2020, but one thing's for sure. I'll be watching.